by Shewanda Riley
Amazing. Inspirational.Awesome.  These are just a few of the words overheard as over ten thousand men and women poured out of the American Airlines Center in Dallas Monday, December 17th after being mesmerized for nearly 2 hours by former First Lady Michelle Obama.     Dallas was a recent stop on her sold-out Becoming book tour for her national bestselling book of the same name.    Attendees of multiple ethnicities, genders and ages started lining up as early as 3 hours before the event started withstanding a cool winter night air for a chance to be one of the first inside to see Mrs. Obama.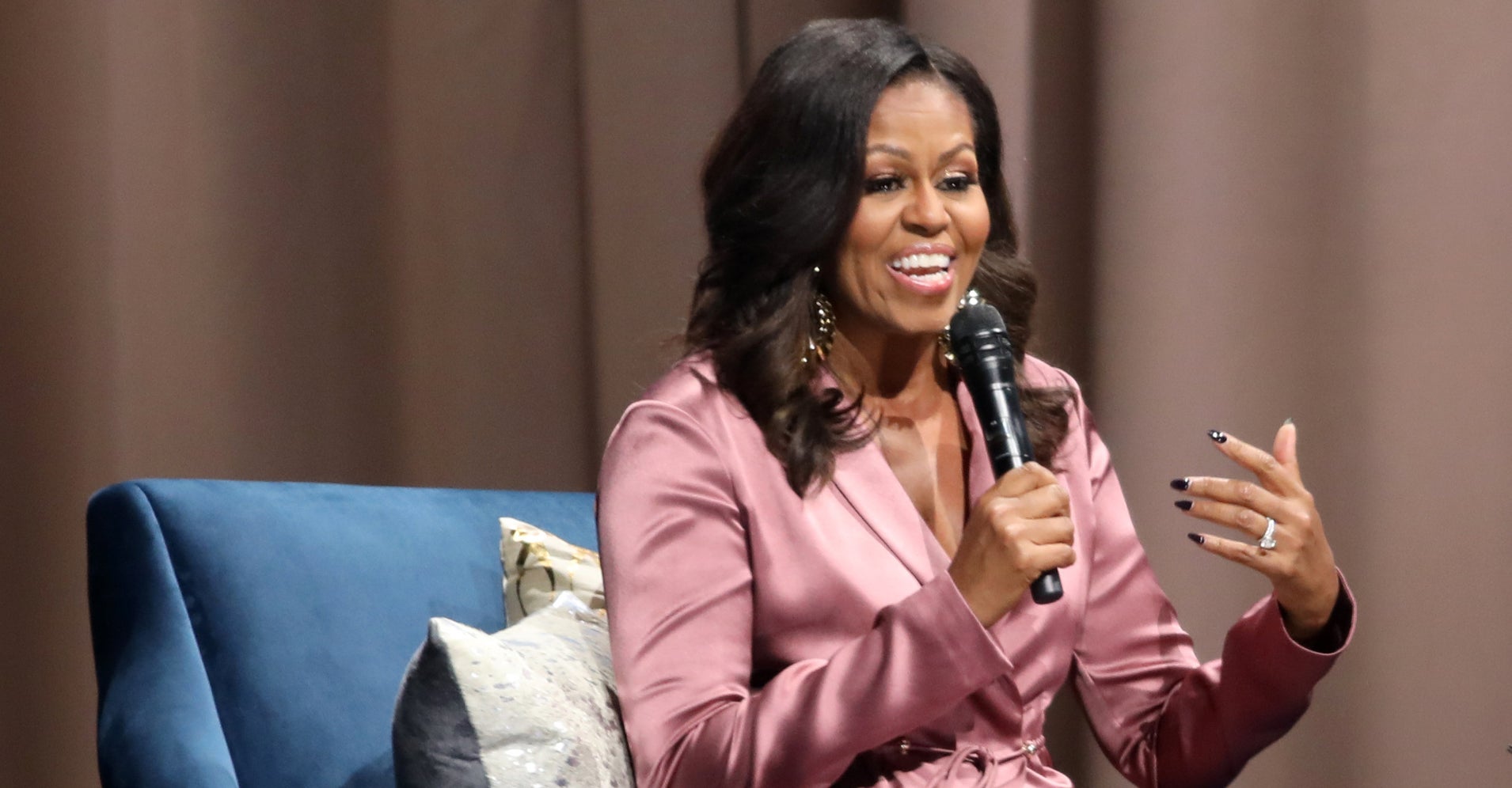 Even before the event started,women, some dressed in the Sunday best, stood in lines to take pictures with over sized photos of Mrs. Obama as well as purchase tour materials including autographed copies of her book.     While waiting for the event to start, videos highlighting some of Mrs. Obama's more memorable moments including visits with foreign dignitaries and talk show appearances played to excited cheers.  
Entering the stage wearing an eye-catching pink off the shoulder blouse with a pair of bright red pants and waving enthusiastically at the audience, Mrs. Obama did not disappoint the adoring crowd sharing familiar stories about her life before, during and after her time in the White House. The conversation was a dialogue moderated by longtime friend and former top White House Senior Advisor Valerie Jarrett. Obama also shared how the fact that her father respected her as an equal to her brother made a significant impact on her esteem as a child growing up on the Southside of Chicago. She explained, "What makes a strong girl is having a positive and respectful warm male presence." She added that her father set a high bar on what she could expect from others.
Obama also touched on the relentless criticism and bullying that she and her family endured while in the White House. She offered powerful insights on how to respond sharing, "People need you to think small so they can feel big." It's not about you, she added noting that "Your success counters what they feel about themselves. "In addition, Obama warned against trying to "have it all" encouraging women to be realistic about their priorities and to "put your life on your calendar" in order to have emotional, mental and physical balance.
Obama ended her conversation with the poignant thought that despite differences that we have with others, "it is the twists and turns that connect us" and that "it's harder to hate close up."
92-year-old Fort Worth resident Opal Lee, well known for her national efforts to make Juneteenth a national holiday, took the train from downtown Fort Worth so she could hear Mrs. Obama. Lee gushed afterwards that even though she'd heard Obama speak twice before, she was simply "marvelous!"